Alexander Carabitses
Every year in the mid to latter part of August, one of the most recognized and revered automotive events takes place in California: Monterey Car Week. This is a week long celebration of the automobile, in which enthusiasts and collectors come together to share their passion for rare, beautiful cars, with all events concluding on August 20th with the Concours d'Elegance, an event that has existed in this location since 1950. Although the aforementioned traditions continue onto this day, we have lately begun to see luxury automakers show up with some of their latest offerings, in order to engage with the customers they so desperately want to lure away from one-another. Some of the automakers attempt to do this by revealing new products and concepts at the event. It is for this very reason that I have deemed this event as preseason show for the actual auto show circuit that kicks off next month in Frankfurt. Here were the offerings.
Infiniti kicked things off on the thirteenth of the month with the Project 9 Concept, a one off that begs the obvious question of "where did this come from and why should I care?" Well, the main reason for this car's existence (apparently) is to showcase what an Infiniti Formula 1 racer would have looked like if the brand had existed in the 1950s. I find the design to be quite nice, although the grill does take some getting used to. However, there are two things about the vehicle that I hate. First, there's the electric powertrain, which everybody knows would not have existed in 20th-century race cars; this car should have had a traditional ICE to make the vehicle look less like a marketing play and more like an actual F1 car of the period. However, what I hate most about this vehicle is the premise of its existence. Infiniti already has a rich legacy in Formula 1, with Sebastian Vettel winning the driver's championship four times from 2010 to 2013. Sure, those technically were Renault engines, but Infiniti badges adorned the car, and the bottom line is that they will forever be remembered as Infiniti race cars. With such a rich legacy in place, Infiniti should be proud and not feel the need to make up a legacy or envision itself participating in racing during a time period which the brand did not exist. Infiniti is compensating for something when it really doesn't have to do so, and in the process, it has made itself look pathetic in front of the media and potential customers. Fortunately for them, the majority of the latter won't realize this on their own.
(Image credited to Infiniti)
Ironically enough, after criticizing Acura and giving kudos to Infiniti about a month ago, the tables may have turned, and that's because Acura showed its ARX-05 Daytona Prototype racer for the IMSA Weathertech Sportscar Championship. Although this will use the same V6 engine that's found in Acura's main line of products, there will also be a hybrid drivetrain, with performance figures yet to be disclosed. Two cars will be fielded beginning next season, and they have a great chance of being successful because they are being fielded by Team Penske. Acura also showed a revised, 2018 RLX flagship sedan, which looks better than before and wears Acura's new front-end better than all of their other refreshed models (that's based on pictures I've seen of the car, of course). However, looking like a large Honda sedan with a front beak was not this car's only problem; not being a compelling and enticing vehicle in the vast sea of luxury and near-luxury vehicles, which is what I have previously coined as the Acura brand's main problem, still looms large over this sedan.
(Image credited to Acura Motorsports and Team Penske)
(Image credited to Acura)
Aston Martin was on hand to once again show off the Vanquish Zagato, this time as a Speedster, while also teasing (but not fully revealing) the Shooting Brake version. As with the other Zagato models, it looks fine from the back (which is where the design difference lies) and features unique carbon fiber trim, upholstery, etc. However, it features two fewer seats than the other Vanquish Zagato models and only 28 speedsters will be produced, while 99 of the other three versions will come to fruition. Then there's Ford, which showed the 2018 Ford GT '67 Heritage Edition, a beautiful one-off that commemorates Ford's iconic 1967 24 Hours at Le Mans victory with Dan Gurney and AJ Foyt driving the iconic Mk IV GT.
(Image credited to Aston Martin)
(Image credited to Ford)
And of course, Germany's three luxury brands are still in an all-out war to kill one-another, with each of the three launching a new convertible at the event. Audi had the 601 horsepower, 2018 R8 V10 Spyder, while Mercedes-Benz showed the second iteration of a concept that they will never build: the Mercedes-Maybach 6 Cabriolet. While last year's coupe concept featured an overwhelming design, the Cabriolet is far more elegant. In fact, it looks more like a yacht than any other vehicle I've seen before, and oh yeah, it features a two-piece hood design like classic luxury cars of the 1930s, along with an electric powertrain. All in all, it's a wonderful car, but seeing as how Mercedes had no plans to build the coupe, why did a convertible show up this year? Probably so that Mercedes could say that they brought something to every major automotive media event on the calendar.
(Image credited to Audi)
(Image credited to Mercedes-Benz)
(Image credited to Mercedes-Benz)
(Image credited to Mercedes-Benz)
(Image credited to Mercedes-Benz)
However, my favorite car of the event is the BMW Z4 Concept. Shown alongside the 8-Series Concept (which made its US debut in Monterey), this car is a design preview of the next-generation Z4 that we'll see at some point next year. Both the exterior and interior designs are stunning transformations over the design of the previous Z4, with the front end being far more dramatic and beautiful than BMW's other latest offerings. The overall exterior design should carry over to production, and keep in mind that this car was developed with Toyota, with Toyota's version being the next Supra. All I know is that if the Z4 and 8-Series Concepts are any indication, it would seem that BMW's styling has gotten a much-needed kick in the rear end, and maybe, just maybe, I can start believing the claims that the next BMW 3-Series will look far more athletic and invigorated than it does now.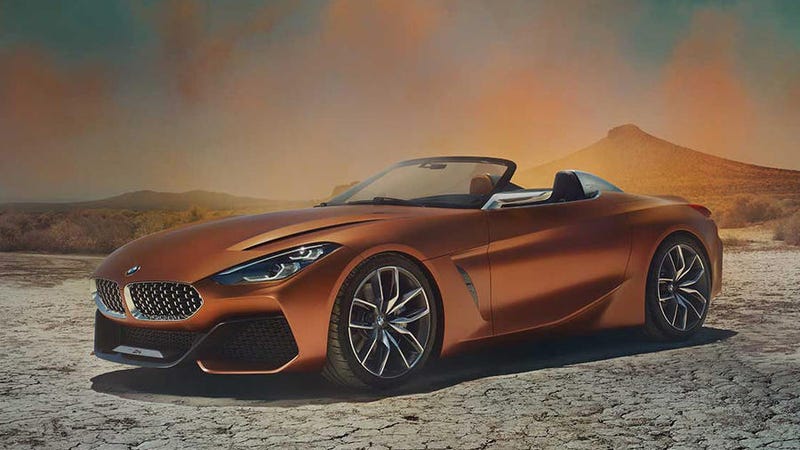 (Image credited to BMW)
So those are the OEM highlights of Monterey Car Week 2017. Although there may have been a mix of good, bad, and ugly from a marketing point of view, the bottom line is that in every single instance, the cars looked great. Thank you for reading and have a good week.