Alexander Carabitses
It's hard to believe that it is already time to cover the New York International Auto Show once again. As many long time readers know, this auto show serves as the primary means in which this media outlet can access many of the recent debuts from the auto show circuit, and this year was no different, although several automakers opted out of having their concept cars for public show days since the Shanghai Auto Show takes place later this week.
Now let's get down to business, and as always, I want to remind all of you that this post is the longest one that you will read from me all year, and therefore not meant to be read in one sitting. However, if you have the gumption and the attention span to do so, by all means have at it.
Acura:
The only real product news from Acura throughout this entire auto show season came at New York in the form of the refreshed 2018 Acura TLX. The front end receives Acura's new diamond shaped front grille, while the back end receives some chrome trim. There is also a new A-spec trim that offers body flares and slightly improved performance. The interior is the same as before, save for the fact that it offers Apple Car Play and Android Auto. In person the vehicle looks okay. While it is definitely an improvement over the car that exists today, I don't think its worthy of consideration over vehicles like the Nissan Maxima, Buick Regal, Kia Stinger, or upcoming VW Arteon. In fact, the Volvo S60 is the only car that the TLX has a leg up on, but even that's due for a redesign next year. In other words, Acura may end up trailing the pack once again.
Alfa Romeo:
Alfa Romeo used the New York Auto Show to showcase the 280 horsepower non-Quadrofolglio versions of the 2018 Stelvio, which goes on sale sometime in either May or June. After looking at the interior and exterior in person I can predict that this will do quite well in the marketplace, especially considering the ramped up demand for luxury crossovers in this sector of the market.
Audi:
After sharing a name with the brand's all-wheel drive system, Audi's performance line has been renamed Audi Sport. To celebrate this new milestone, the brand showcased the 2018 RS5, the 2017/18 RS3 sedan (both model years will be available within a month of each other for some reason), and the 2018 TTRS Coupe. All three of these models look fantastic; what's better is that they are only three of the eight new RS models that Audi plans on launching by 2019. Audi also took the time to launch two new variants of the R8, the first of which is given the mundane name of 2018 Audi R8 Audi Sport special edition, with the only changes being some new paint and graphics. The second is the Audi R8 LMS GT4, which is a legitimate racer the individuals can purchase for track use only. Also new at Audi, albeit from previous auto shows, were the 2018 A5 convertible and 2018 S5 Sportback, both of which have decent exteriors, although I still feel that the interior lacks the emotion that other Audi models are starting to show.
(Image credited to Audi)
(Image credited to Audi)
BMW:
BMW's lame auto show tour is thankfully almost over. New York featured no new reveals from the brand, which instead decided to feature its iPerformance plug-in hybrid line which we have already seen multiple times. I should note that despite an apparent lack of news during this past auto show circuit, 2017-2018 will feature multiple noteworthy debuts, so at least we have something to look forward to in the not too distant future from this brand.
Bugatti:
At long last, I was finally able to see this glorious $2.5 million dollar mega car in person. Although not specifically revealed in New York, it was my personal highlight of the show. It looks ten times better than a Veyron, as its design showcases a certain form of emotion that the old car lacked. It's also much wider than the Veyron; in fact, its the widest car that I have ever seen. Now, I did watch Top Gear's review of this, and for those of you who haven't, I will tell you that this this one of the best cars that they have ever driven.
Buick:
Buick saved all of its product news for New York, beginning with the launch of the new 2018 Buick Regal Sportback (think BMW 4-series Grand Coupé rear hatch) and the 2018 Regal TourX wagon. Both go on sale in the fall and feature completely reworked exterior and interior designs that look quite sporty and elegant. The cars are powered by GM's 2-liter 4-cylinder engine, and both come in either FWD or AWD. Buick also took the time to showcase the 2018 Enclave, which is also all-new from the ground up and also goes on sale in the fall. Powertrain wise, you can have any engine you want, as long as its a 3.6 liter V6. Design wise, the full-size crossover looks just as elegant as the Regal, both inside and out. The design is further enhanced by the new Avenir trim level, which is Buick's version of the Denali trim. Don't ask me why Buick decided to take the name of its best looking concept car and use it as a trim level, because I honestly don't know. What I can tell you is that the majority of Buick models will feature this new trim level in the not too distant future.
Cadillac:
The Cadillac Escala was not at the show, and instead was in transit to Shanghai for the auto show later this week. Also, the brand never showcased the face-lifted XTS sedan in New York, which also happens to be the largest livery sedan market in the country. In other words, the display was a letdown on all fronts.
Chevrolet:
Chevrolet also had a quiet show for some reason. The only real news was the first public appearance of the 2018 Camaro ZL1 1LE and the new 2018 Tahoe and Suburban RST, the former of which is offered with an optional 6.2 liter V8 engine. There was also the 2018 Corvette Carbon 65 Edition, which is a limited edition model that is meant to celebrate the car's 65th anniversary. I did manage to get my first look at the all new 2018 Chevrolet Traverse that debuted in Detroit, and while its not a bad looking model by any stretch of the imagination, the car doesn't really do anything for me under the lights the way in which its sister car, the Buick Enclave did. None the less, it does look like a model that looks like it will be more sharp on the road, than it is on a turntable, which is not a bad thing at all.
(Image credited to Chevrolet)
(Image credited to Chevrolet)
Dodge:
Unless you live in a cave, you are aware of the fact that Dodge had been secretly working on a street legal drag car for the past few years now, and began teasing its reveal in 13 weeks ago. By now you are probably also aware that the car produces 840 horsepower, does 0-60 in 2.3 seconds, can actually pop a wheelie due to some engineering prowess that benefits traction at launch, and that it has been banned by the NHRA because it is too fast. There is a whole lot more than I can discuss about this vehicle, but that would probably take too long in what is already a long post, so I'm enclosing a PDF of the press
kit
for you to peruse through. Also note that only 3,300 will ever be produced, and 3,000 of them are destined for the US.
Ford:
The New York Show was actually the first time that I was able to see the refreshed 2018 Mustang in person, and despite my negative first impressions of the car, I must say that I actually like the new design; I'll go as far as to say that it looks better than the outgoing design. The New York Show also marked the first time that I was able to get a glimpse of the all-new 2018 Expedition, and compared to the Tahoe, I think that this new model also looks a hell of a lot better, although in all fairness, it is not uncommon for me to like the newest body-on-frame vehicles on the market. Although those other vehicles debuted in Detroit and Chicago respectively, Ford showed two new models in New York. The first was the Ford Fusion Police Pursuit Concept, which is actually the first hybrid police pursuit vehicle; I should note that it doesn't go into service until next summer, so for the time being, don't expect the officer that pulls you over for speeding to be driving one. Also, Ford showed some slight exterior and tech revisions to the 2018 Explorer for what will actually be the final year of its life-cycle, as a new model is expected to arrive soon.
(Image credited to Ford)
Genesis:
Hyundai's luxury arm showed the fuel cell powered GV80 Concept, that actually looks close to being production ready. From my understanding, this vehicle previews the design language of the brand's upcoming range of crossovers, although what model it previews in particular remains to be seen. The design is quite nice, as it blends a bit of Audi Q7 on the side sculpting, some Citroen characteristics on the lights, and some Bentley characteristics on the grille.
GMC:
GMC had nothing new in New York, although the show was the first outing in which I was able to see the 2018 Terrain compact crossover. I'll keep things brief by saying that it looks a hell of a lot better than the old model both inside and out, as it has ditched those enormous square wheel arches for more sculpted arches instead. This makes the overall vehicle look less like a toaster, and more like a vehicle that you actually want to own. I also appreciate the fact that the floating roof actually features windows, rather than black plastic, which actually makes this design feature useful.
Honda:
Honda showed a plethora of new models in New York, beginning with the 2017 Civic Si, which is available as both a sedan and a coupe only; unfortunately, the VTEC engine only makes 205 horsepower. This was done because the company wanted to focus on affordability, while also ensuring that it kept weight down to make the car more nimble. However, if you want more power, you can upgrade to the 2017 Civic Type-R, which at long last has finally reached the US. It looks great and makes 306 horsepower, as well as 295 lb-ft of torque. Expect both models to go on sale later in the spring. However, if you are concerned about environmental sustainability, Honda hasn't forgotten about you, as there were two new versions of the Honda Clarity unveiled in New York. The first was the 2018 Clarity Plug-in Hybrid (the one pictured in green), which can run 42 miles on electricity alone, before a gas engine kicks in. This range on quite comparable with other plug-in hybrids. However, the anticipated 80 mile range (because Honda never officially disclosed it) of the California and Oregon only Clarity EV will be quite pathetic, thanks in part to the smaller battery. At any rate, both of these Clarity models feature slightly skirted rear wheels, which proved to be my favorite design feature of the show and both of them will be on sale by the end of the year.
(Image credited to Honda)
Hyundai:
In addition to catching my first glimpse of the 2018 Elantra GT that debuted back in Chicago (and actually looks quite sharp) I also saw the refreshed 2018 Hyundai Sonata, which made its North American premier in the Big Apple. Hyundai can talk up the revisions as much as they want, but the fact of the matter is that despite the new grille, the stupid trunk length Sonata badge, and the minor dynamic improvements, this generation of Sonata is still a major disappointment when compared to the previous model.
Infiniti:
Infiniti showed two new models in New York. The first was the North American premiere of the refreshed 2018 Q50 sedan, which features a few changes that aren't that noteworthy. The second product introduction was the world premiere of the QX80 Monograph Concept. Although Infiniti denies it, this model clearly previews what the basic appearance of the next generation QX80 will look like, and I must say, it looks a hell of a lot better than the beluga whale that they're selling now. I would love to share some live photos of the concept with all of you, but I can' because Infiniti pulled the concept from the show for public days.
(Image credited to Infiniti)
Jaguar:
Remember that refreshed F-type that I mentioned a few posts back? Well as it turns out, that model was destined for New York, where it did in fact make its premiere. The big news was the introduction of a new Turbo 4-cylinder engine, which produces 296 horsepower and serves as a base model to expand the car's appeal. From a business perspective it makes sense, but form an enthusiast perspective, it is outright blasphemy. I should also note that the I-Pace concept was not on display in New York, but the brand was kind enough to show the general public one of its Formula-E entries.
Jeep:
I know, I should have taken look at the 2018 Jeep Compass in Boston, but better late than never. The new model actually looks quite nice both inside and out, although I would''t exactly call it a class leader. I should also note that the rear-view mirror had been detached for some reason. Jeep's New York premiere was the hotly anticipated 707 horsepower 2018 Grand Cherokee Trackhawk. In addition to the Hellcat engine, the vehicle futures some of the largest front brakes that Brembo has ever produced, while AWD system has been recalibrate to handle the insane amount of power, so it is defiantly more refined than any other Hellcat model. While completely pointless, I still think that there will be a decent amount of enthusiasts that buy this, and who knows, maybe it will inspire other manufactures of high-performance luxury SUVs to up their game a little bit. Jeep also had two new Wrangler special editions, dubbed the Chief and the Smokey Mountain.
(Image credited to Jeep)
(Image credited to Jeep)
Kia:
Kia quietly pulled the wraps off of the US-spec versions of the 2018 Niro Plug-in Hybrid and the 2018 Rio lineup. While these vehicles were nice, what really excited me was the 2018 Kia Stinger that debuted back in Detroit. This is by far the best car that Kia has ever done, period. From a design perspective, it is quite stunning, and as I said few months ago, it is great to see that the design elements from the 2011 concept car carried over to production. Hopefully it drives, just as great as it looks.
(Image credited to Kia)
(Image credited to Kia)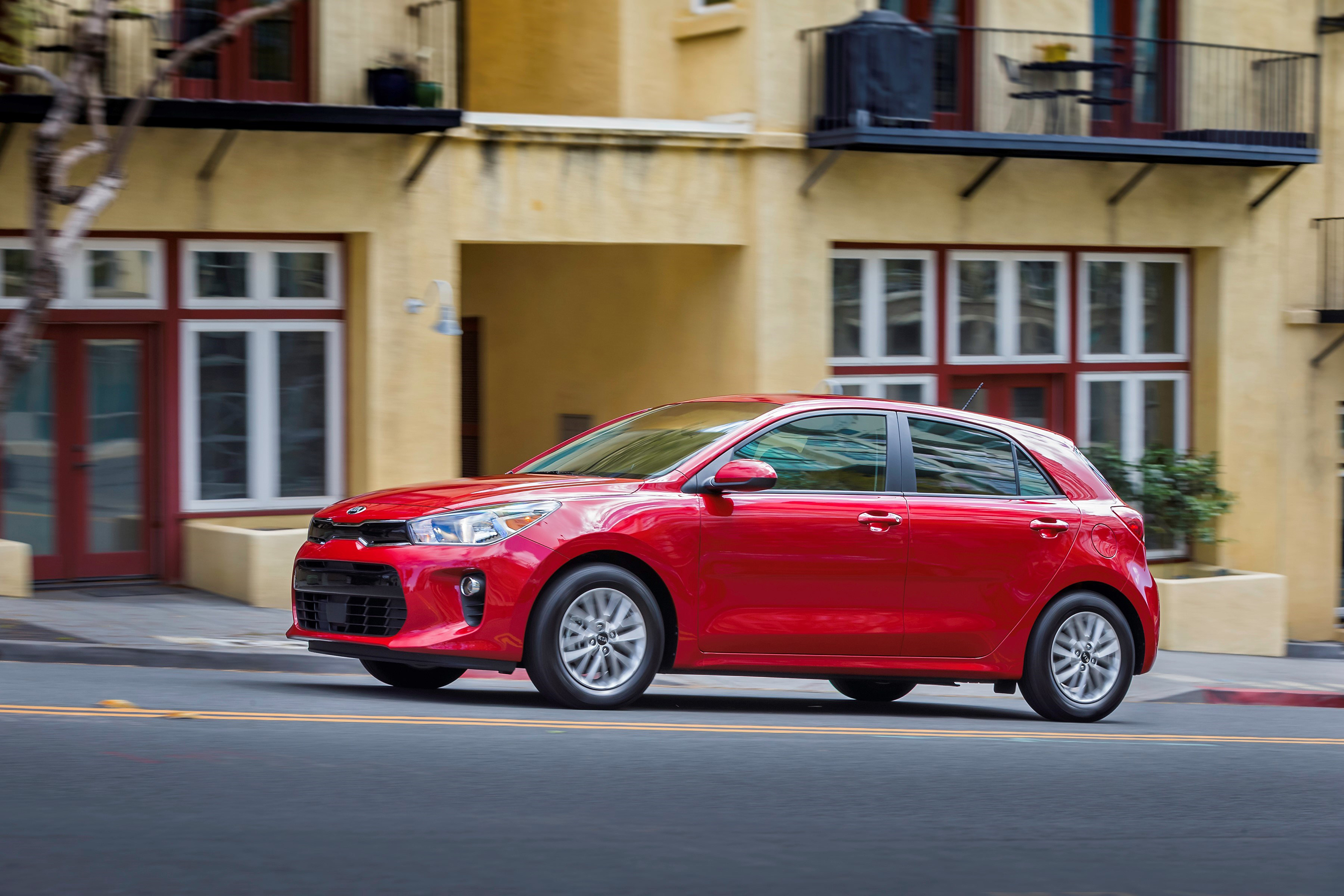 (Image credited to Kia)
We have reached the halfway point of this post, and as always, I want to interject with some personal commentary and some other news. First and foremost, aside from BMW, Cadillac and GMC, many other brands opted out of showing new products in New York, most likely due to the fact that a lot of brands have hit low points in their product cadences. Chrysler, Fiat, Mazda, Mini, and Smart had no new models to show in New York. Also, several exotic car companies didn't showcase anything in the Big Apple, despite the fact that some North American premiers of Geneva unveils were in order. Specifically, Aston Martin, Bentley, Lotus, McLaren, and Rolls Royce had absolutely nothing new to show. Also, Aston Martin and McLaren didn't even participate in the show, which was quite unfortunate.
There was also some other major news from New York. First off, we learned that GM's sale of Opel will not affect Buick from a manufacturing standpoint, while from and R&D standpoint, it also seems unlikely that the brand will suffer, although it will be interesting to see if niche models like the Cascada and the Regal TourX live beyond their first generations. Also, for those of you who read my coverage of the Opel sale to PSA, you'll recall my mentioning that many of Opel's models seem to be designed to appeal to American and Chinese buyers, rather than European buyers, so from that perspective, I don't see an issue. And if you're concerned about driving dynamics, just drive a Camaro and rest assured that GM knows how to design cars that are fun to drive.
Finally, Jaguar won the World Car of the Year award with the Jaguar F-pace, as well as the World Car Design of the Year. The Toyota Prius Prime won the World Green Car of the Year, while the BMW i3 won the World Urban Car of the Year award and the Mercedes E-Class won the World Luxury Car of the Year. award Jaguar's duel victories were followed by executive confirmation that the XJ flagship's future remains in doubt. It really is a sign of the times.
Koenigsegg:
While the brand didn't have any major news in New York, it did showcase the Agera RS1, which is actually a customer car that is scheduled to be delivered soon.
(Image credited to Koenigsegg)
Lamborghini:
Lamborghini showcased the 2018 Huracán Performante to the US media at an offsite event, and the car was not on display for the general public. However, the brand did have a 2018 Aventador S.
(Image credited to Lamborghini)
Land Rover:
I finally got my chance to see the 2018 Land Rover Discovery in person, and I am happy to report that this vehicle is much improved over its box-on wheels predecessor, both inside and out. Upon inspection, I quickly noticed that the rear portion of the roof has a hump that mimics older Discovery models. I completely understand why this redesign is controversial amongst brand loyalists, but I think that the time has finally come to make this vehicle more dynamic and more mainstream. I should also note that the 2018 Range Rover Velar made its North American premiere at the show, and I was fortunate enough sit inside a floor model before Jaguar-Land Rover locked all of their cars due to reports of some idiot taking a pocket knife to the seats of cars at other brands. I like the layout of the interior, but there is a high chance that if you are a picky person, you will be easily annoyed by the fingerprints that accumulate on the touchscreen, all of which will be clearly visible when the screen is off. Finally, I want to make note of the fact that I like the exterior design, but like the Traverse, I think it will look better on the road than it does at the show.
Lexus:
This venerable Japanese luxury brand showcased the UX concept on their stand, which looks only slightly better in person than it does in photos. Botton line, it's still butt-ugly. Furthermore, I was told that I couldn't personally sit in an LC500 floor model because I was too young, which also sucked. However, the 2018 LS500 completely made up for it, with its impeccable design; it is nice to see that Lexus has finally discovered how to bend elegance with passion. The origami leather door panels also show the meticulous craftsmanship that Lexus took to this car. The brand is still going LS crazy, and in New York, it revealed the 2018 LS500 F Sport, which only offers sporty visual enhancements on both the naturally aspirated model and the hybrid version.
Lincoln:
When I saw the first official photos of the 2018 Lincoln Navigator, I had to do a quick double take, because I thought I was looking at the concept version. The overall exterior design looks identical to the concept, except for the gullwing doors, while the interior is the nicest that I think Ford has ever produced, especially on the Black Label trim. I also saw what I believe was a base model on the floor (although I could be mistaken), and it looked very nice as well. For those of you who care, the engine is a 3.5 liter V6 and like Ford's other body-on-frame trucks, this is now aluminum bodied. I honestly believe that this vehicle is better than the Cadillac Escalade, mostly due to the elegance that is displayed in the show models. My only fear is that poor quality control on the assembly line will be a hindrance to this otherwise great vehicle.
Maserati:
The Italian luxury marque showed the 2018 Ghibli Nerissimo, which means "very black" in Italian. It is a special edition model, and once again, I am left wondering why people actually like these blackout packages on their cars.
Mazda:
As I said earlier, Mazda didn't show any new models in New York, but I did not pass up the opportunity to see the brand's LA introduction, the 2018 CX-5. I honestly believe that this is the class leader, as far as C-segment crossovers are concerned. The exterior is an evolution of the brand's design language, but the interior is a complete home run, as it looks and feels German, but with a bit more passion.
Mercedes-Benz:
First things first, the 2018 Mercedes-Maybach S650 Cabriolet had some interior door trim that did not line up with the body, which is completely unacceptable on a limited edition high priced car that is otherwise perfect. Aside from getting my first look at this model, I also saw the 2018 Mercedes AMG GT R and the 2018 Mercedes AMG GT C, both of which are very nice. Then there are the New York debuts, the best of which was the 2018 Mercedes E-Class Cabriolet, followed closely but he 2018 Mercedes AMG E63 Wagon. Then there's the Mercedes AMG GT Concept sedan, which looked great in pictures (and was my favorite Geneva reveal), but in person I can only find three words to describe it: What a disaster! The proportions are nightmare, the wheels on the concept are too big, the paint color is horrible, and I honestly don't know who would want to buy one of these and for what. While that horrid concept and the two new E-Class variants were making their US premiers, Mercedes also showed the 2018 GLC 63 and GLC 63 Coupe, both of which aren't to my taste, but should satisfy those craving a small luxury performance SUV that isn't made by Porsche.
Mitsubishi:
This Japanese brand had a very quiet show, electing to show nothing more than a slightly refreshed 2018 Outlander Sport that features a tweaked from fascia and some new interior trim updates for what may (or may not) be the last year of the current generation Outlander Sport's life.
(Image credited to Mitsubishi)
Nissan:
Nissan had a somewhat distorted show. On one end, it was showing new concept variants of the Nissan Rogue, such as the Rogue Trail Warrior Project and the Project Dogue Concept, the latter of which is a dog friendly Rogue. At the other end, the brand showed the 2018 Nissan GT-R Track Edition which apparently made its North American premiere at the show and is a mid-tier trim for the car. Finally, the company reminded the media that it hasn't forgotten about its 370Z sports car, and after admitting that a next-gen model may not be a priority after all, it rolled the 2018 370Z Heritage Edition onto the stage. Despite all of these random changes in tone, I can happily report that I finally understand the placement of the Rogue Sport in the companies lineup (its a B-segment crossover, while the Juke is more of a Kia Soul competitor) and I can say that I am like the vehicle in person, both inside and out.
(Image credited to Nissan)
(Nissan Murano Midnight Edition- shown at Chicago)
(Image credited to Nissan)
Porsche:
Porsche rolled out a bunch of models that it previously showcased in Geneva, such as the refreshed 2018 911 GTS and GT3, both which possess no major flaws in my mind. Then there was the 2018 Panamera Sport Turismo, which is the best looking wagon that I have ever seen. The proportions are great, as the car sits low to the ground and is quite long in person. While it looks great, I can only imagine how great this car will be to drive.
Ram:
Ram had a pair od special edition models: the 2018 1500 Sublime and 2018 Rebel Blue Streak. While not a debut, the Rebel TRX Concept was on the stand, looking both incredibly cool and incredibly dumb at the same time, as it has from day one. Apparently, it will make production at some point next year, my guess being after the next generation 1500 model debuts.
(Image credited to Ram)
Rimac:
The electric hyper-car company surprised a lot of people after it showed up with its Concept One at this year's show. While the car looks very good, it will be interesting to see if the company can survive, long term.
Spyker:
One car company that needs no lesson on survival is Spyker, which almost ceased to exist a few years back. In New York, the brand showed the 2018 C8 Preliator Spyder to US media outlets, following a world premiere in Geneva; it looks just as good in person as it did in photos back then.
(Image credited to Spyker)
Subaru:
Subaru had a very busy New York Auto Show. Not only did the brand show the handsome new 2018 XV Crosstrek, but it also showed the refreshed 2018 Outback and a concept version of the new Ascent full-size crossover, which looks pretty close to production. Given that the exterior design isn't expected to change in the transition from concept, to production I'm willing to go out on a limb and say that this is the best looking car that Subaru will have ever designed up to this point. The proportions are bold and certain exterior elements, such as the headlights, give the vehicle a personality, something that almost all Subarus have lacked up to this point. Lastly, I want to mention that I caught my first glimpse of the refreshed 2018 WRX STI; overall, my feelings towards the car are lukewarm, although it's my least favorite car in the segment.
(Image credited to Subaru)
Toyota:
Well, I can't believe I'm saying this, but I actually like the 2018 Camry. As with the Lexus LS, Toyota has managed to blend aggressiveness with elegance and it works quite well. Toyota also had a couple of their SEMA concepts on the stand, alongside a pair of their New York unveils: the refreshed 2018 Yaris Hatchback and the 2018 Sienna minivan, which I figured would be due for a new generation at this point in its life. However, wise from those forgettable models, the big news from Toyota came in the form of the FT-4X, which is a B-segment crossover that's geared towards millennial who live in urban areas, but also lead active lifestyles. The interior features storage for a sleeping bag and hoseable floors, while the rear hatch can be opened either upward or outward, depending on the direction of the handle. As of now, there are no plans to produce the concept, but due to some of the body cut-lines, it could be doable if the feedback is positive. My only fear is that this will loose a lot of its character during the transition from concept to production, which would be a damn shame given the fact that this concept looks quite nice, particularly, the classic Land Cruiser and FJ Cruiser design details.
(Image credited to Toyota)
(Image credited to Toyota
Volkswagen:
No brand in New York seemed to have as much confidence at their stand as Volkswagen. Sales are actually up, year over year, and that is before the new Atlas and the new Tiguan have even begun hitting showrooms. As for the latter model, the vehicle is okay, but just okay. In my mind, it is too bland to get noticed in a crowded segment. In NYC, the brand premiered the refreshed 2018 Golf lineup, featuring the Golf, the GTI, the Golf R, the Golf Sportwagen, and the Golf Alltrack (the E-Golf was shown back at LA in November). The revisions are slight, and to some eyes, hardly noticeable, but they at least keep the model fresh.
(Image credited to Volkswagen)
Volvo:
After several months of declining sales, Volvo needs some more new products, and the good news is that they're on the way. Both the V90 and the V90 Cross-country are scheduled to hit showrooms now (although the former can only be ordered through Volvo Concierge and be picked up through international delivery). Both models look great, and I find it interesting to see that in a world where wheel arches are twice as big as they need to be, Volvo has made the ones on the V90 Cross-country just big enough to fit the wheel. however, this is all old news, as the brand had two new debuts in New York City. The first is the 2018 S90, which features a new plug-in hybrid powertrain on both standard and new long wheel base variants. Even more important is the debut of the 2018 XC60, which looks quite elegant in person, and should be enough to continue boosting the XC60's sales, following a recent sales stride for that particular model, which turns actually turns nine years old this year. In other word, this new model has a lot of potential and a lot depending on it, so it needs to succeed.
And that, my dear friends, is everything worth talking about in New York. Overall, this year's show was quite good from a consumer perspective, although from a media perspective, it was little light on news, particularly where world premieres of production cars are concerned. However, there were a lot of nice concept cars, in fact, many more than we've seen in recent years. This is a good thing for sure, as it shows that the industry still values giving consumers a glimpse of the future.
I'm going to leave you with a pair of photos of a 1956 Lincoln Continental Mark II, which is the first vehicle I saw at this year's show. When the car was new, it was priced at $13,700 ($122,697 today), which was more expensive than a Rolls Royce at the time. Even today, the car bares a striking presence. With that said, it is time to end. Thank you for reading and have a good week.