Alexander Carabitses
For me, the best part about the month of March is the auto show circuit's annual stop in Geneva Switzerland, for what is undoubtably the best auto show in the world. It is the best place to see exotic, super, and hypercars, all in one of the most beautiful cities in Europe. Of course, everyday cars debut at this show as well, and given that this is the second of only two major European auto shows each year, the product onslaught is enormous. Everyone is on equal footing at his show as well, due to the fact that there are no major automakers in Switzerland. On a final note, the majority of vehicles that debuted here (aside form the french cars and some supercars) are making their North American premieres in New York next month. None the less, I am willing to include these models in this years list of top 20 Geneva debuts.
20. Volkswagen Cedric Concept:
If this is the future, then all automotive enthusiasts are completely screwed. The idea of this concept is to show what the future of ride sharing and autonomy will be like. The car is meant to look cute an innocent to encourage the trust that VW desperately needs from people. It can be called to the owner via a remote control at the push of a button.
(Image credited to Volkswagen)
19. Hyundai FE Fuel Cell Concept:
Hyundai already makes a fuel cell powered Tucson. However, this new fuel cell system is 20 percent lighter and has a 30 percent greater power density. The styling is meant to preview the brand's new styling direction, with the first production example possibly being the production version of this very concept.
(Image credited to Hyundai)
18. 2018 Alpine A110:
Renault is showing the first production vehicle of the newly relaunched Alpine sports car brand. Bearing stylistic resemblance to the original Berlinetta, the new A110 will compete with the Porsche 718 Cayman and the Alfa Romeo 4C when it goes on sale in Europe later this year.
(Image credited to Alpine)
17. Infiniti Q60 Project Black S:
While this car might look like a bit of a joke, it is actually built to
celebrate Renault's partnership with Formula 1. To prove this, the car features a KERS hybrid system that mimics the setup of the La Ferrari. There have also been some major design upgrades, as you can see, with the exhaust also receiving some major changes. There is still no word on whether or not this will be built as a limited edition model.
(Image credited to Infiniti)
16. 2018 Mercedes-Benz E Class Convertible:
While not the most exciting thing to show its face (or drop its roof) in Geneva, this drop top version of the E-Class, which will compete with the BMW 6-Series convertible when it goes on sale at the end of the year, is certainly beautiful.
(Image credited to Mercedes-Benz)
15. 2018 Volvo XC60:
In a show that's filled with splashy, exotic debuts, it seems strange to see this car claiming some spotlight. However, if you were to put aside all of the exotic cars that debuted, this would one of the most important, if not the most important car of the show, as it is Volvo's best selling vehicle. On the outside, it is a blend of XC90 and previous generation XC60, while mimicking the former inside. Powertrains are too humble and boring to mention in this post. Expect the car to make its official US debut at the New York Auto Show next month alongside other snoozers that debuted in Geneva, such as the Lexus LS Hybrid and the Subaru XV Crosstrek.
(Image credited to Volvo)
14. Italdesign Automobili Speciale:
Limited to just 5 units, this supercar, which has obviously been styled by Italdesign as its name implies, is powered by a naturally aspirated 5.2 liter V8; that engine is actually the same as the one that powers the Audi R8 and Lamborghini Huracan.
(Image credited to Italdesign)
13. 2018 Mercedes-Maybach G650 Laundalet: Geneva is known for being the cite for the debuts of outlandish OEM creations. This uber luxury G-Class is no exception, with its convertible rear-portion roof, spacious and luxurious back seat, and its incredible 4x4 capability. Did I mention that it has a 6-liter V12 engine?
(Image credited to Mercedes-Benz)
12. 2018 Pagai Huayra Roadster: Take the already exquisite Pagani Huayra, replace the fixed roof with a removable hardtop (which in turn allows for a 176 pound weight reduction), upgrade the Mercedes V12 to produce 754 horsepower, and upgrade the suspension and the brakes. That is exactly what Pagani has done to produce the car that you see here.
(Image credited to Pagani)
11. 2018 Spyker C8 Preliator Spyder: First things first, this new Spyker will run on a 500 horsepower Koenigsegg V8 engine. Once you've processed that odd point, I'll be courteous enough to remind you that the roof is a power folding soft top and that only 100 will be built.
(Image credited to Spyker)
10. 2018 Honda Civic Type R: Before I mention any details on the car itself, let me make it clear that we will be getting this car in the US for the first time, with a US debut anticipated to take place at the New York Auto Show next month. The car is powered by a 2 liter inline-four that's good for 306 horsepower and 295 pound feet of torque, all of which will be sent to the front wheels (let the controversy begin) via a 6 speed manual transmission. The styling is anything but elegant, although I doubt anyone will really care.
(Image credited to Honda)
9. 2018 Porsche Panamera Sport Turismo:
If the car looks familiar, that's because Porsche first showed it as a concept at the 2012 Paris Auto Show. As you can see, not a lot has changed about the overall design, save for production wheels. On a technology front, the rear lift gate spoiler actually retracts for better downforce and on the powertrain front, the engine lineup basically mimics that of the regular Panamera. Expect prices to start at around $96,200 when the car goes on sale at the end of the year.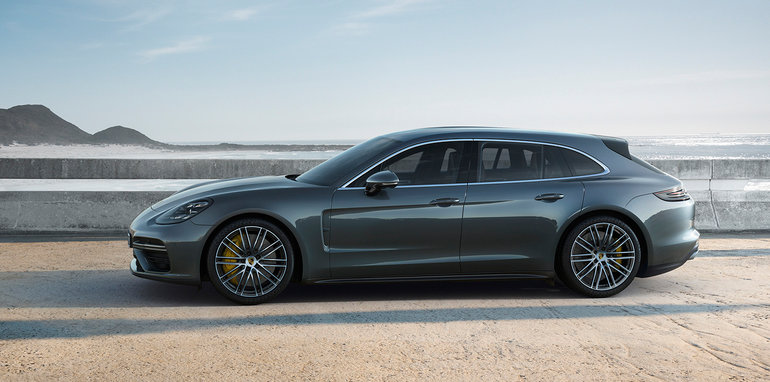 (Image credited to Porsche)
8. 2018 Ford Fiesta ST:
The Fiesta ST is one of the best cars that money can buy as it is, and this new one looks to be even better. This new generation will be powered by a 1.5 liter Turbo 3-cylinder engine that makes 197 horsepower and 214 pound-feet of torque, with zero-sixty happening in just 6.7 seconds. The car also features cylinder deactivation, which is remarkable for an engine that is as small as this. Sales will commence in Europe about a year from now, but given that Ford is hesitant on bringing the new Fiesta to the US, we'll have to wait and see if we get this new pocket rocket in the states.
(Image credited to Ford)
7. 2018 Volkswagen Arteon:
This stunning car is VW's replacement for the aging CC. It is built on the MQB architecture and features a variety of petrol and diesel engines. Although nobody knows for sure when this car will hit US dealers, I'd assume that it would be at some point within the next 12 months. When it does arrive, it will undoubtably cost more than the Passat and sit on top of that car in its lineup, while facing off against the Buick Regal and Kia Stinger.
(Image credited to Volkswagen)
6. 2018 Land Rover/Range Rover Velar:
I am the first to admit that the GT roof crossover segment is completely stupid, but I have one new exception to the rule with this new model. Meant to fill the gap between the Evoque and the Sport within the Range Rover line of vehicles, this new model is by far the most beautiful SUV the world has ever seen, both inside and out. Prices start at $50,000 and the SUV should be on sale by the fall.
(Image credited to Land Rover)
5. 2018 Audi RS5 Coupe:
It was addressed as the touring car of Audi's performance range, but on paper, that claim appears to be an understatement. This car makes 450 horsepower from VW's 2.9 liter bi-turbo V6, hits 60 mph in 3.9 seconds, and weighs 132 pounds less than before. The styling is actually attractive (something that can rarely be said about Audi) and takes a lot of inspiration from Audi's own DTM racer. US pricing and availability will be announced later.
(Image credited to Audi)
4. 2018 McLaren 720S:
One thing is remarkable about this car is that right off the bat: it is faster and more powerful than both the Lamborghini Huracan Performante and the Ferrari 488 GTB, as this new car makes a total of 710 horsepower. It also weighs far less than either of those cars, yet it is not as beautiful as either of its competitors. In fact, it is downright polarizing.
(Image credited to McLaren)
3. 2018 Ferrari 812 Superfast:
I love the Ferrari F12 more than any car in the world, so it kills me that it is already time for its replacement to take over. Right away, I'll point out the positive, which is that the engine is still a naturally aspirated V12, only it now makes 789 horsepower. However, I do not like the design at all, at least based on the photos that I've seen, but as with most Ferrari's, they never look their best in stock images like these.
(Image credited to Ferrari)
2. 2018 Lamborghini Huracan Performante:
Two words describe this car: fast and beautiful. How fast? 631 horsepower and 630 pound feet of torque (10 more in each category than the standard car) fast. How beautiful? Look at the picture below and see for yourself. As you can see, there are many new aero components, while the funky wheels and trim pieces exist because this car pays homage to the Diablo of old.
(Image credited to Lamborghini)
1. Mercedes AMG GT Concept:
This stunning concept car is only a few door mirrors away from production, and if it were to make production it would compete head on with the Porsche Panamera. Under the hood of this 4 door AMG coupe is a twin-turbo V8 and an electric motor that produce about 800 horsepower. Expect a production version to debut about a year from now.
(Image credited to Mercedes-Benz)
So there you have it. I feel that it would be unfair to not give some honorable mentions to the
Bentley EXP 12 Speed 6e EV
(the roadster version of the concept car I bashed a few years ago and the brand's first electric car), the
2018 Porsche 911 GT3
(which returns with a manual transmission), and the irrevocably ugly, albeit important
Audi
Q8 Sport Concept.
(Image credited to Bentley)
(Image credited to Porsche)
(Image credited to Audi)
The auto show circuit's next major stop is in New York for Easter week, which (as many of you already know) is home territory for me. As I mentioned earlier, a lot of the mainstream cars that were unveiled here in Geneva will make their US debuts in New York, along with a slew of other new cars that we have yet to see before.
Until then (and all of the posts in between now and then), thank you for reading and have a good week.