Alexander Carabitses
Hello to all!
I regret to inform all of you that in my last post I completely forgot about a few products that were unveiled this summer, mostly because they were significant to all other markets, except the U.S., so to make up for that I have included them in this post, along with a whole slew of other recent introductions as well, so enjoy!
2016 Seat Ibiza:
As the Seat brand continues to struggle, it still manages to roll out new products, like the refreshed Ibiza. The Ibiza is basically a subcompact vehicle that competes with the Opel Corsa, Volkswagen Polo, and the Ford Fiesta.
(Image credited to Seat)

2016 Renault Duster Oroch: It's a pickup truck version of the Dacia Duster which is an SUV that isn't sold here so whatever.
(Image credited to autoblog.com)
2016 Renault Sandero RS:
This Renault is also based on a Dacia, in this case the Sandero, but this is more of a hot hatch. If you're disappointed that we aren't getting this, don't be because it will be a limited edition model, that will only be sold in Latin America (that's right, Europe isn't getting it either).
(Image credited to autoblog.com)
2016 Holden Insignia VXR: It's the Holden version of the Opel Insignia OPC and the Buick Regal GS. It's also the fourth Opel model to go on sale in Australia this year, alone. GM feels that the only way to keep the Holden brand alive is to import Opels to Australia, but we'll have to wait and see if it works or not.
(Image credited to themotorreport.com.au)
2016 Opel Astra:
It features new engines, new tech features, and a handsome exterior that was inspired by the Monza concept car. The interior is set to be bigger, even though the exterior dimensions have shrunk just a tad, while the driving dynamics have also improved. Long story short, this new Astra looks very promising.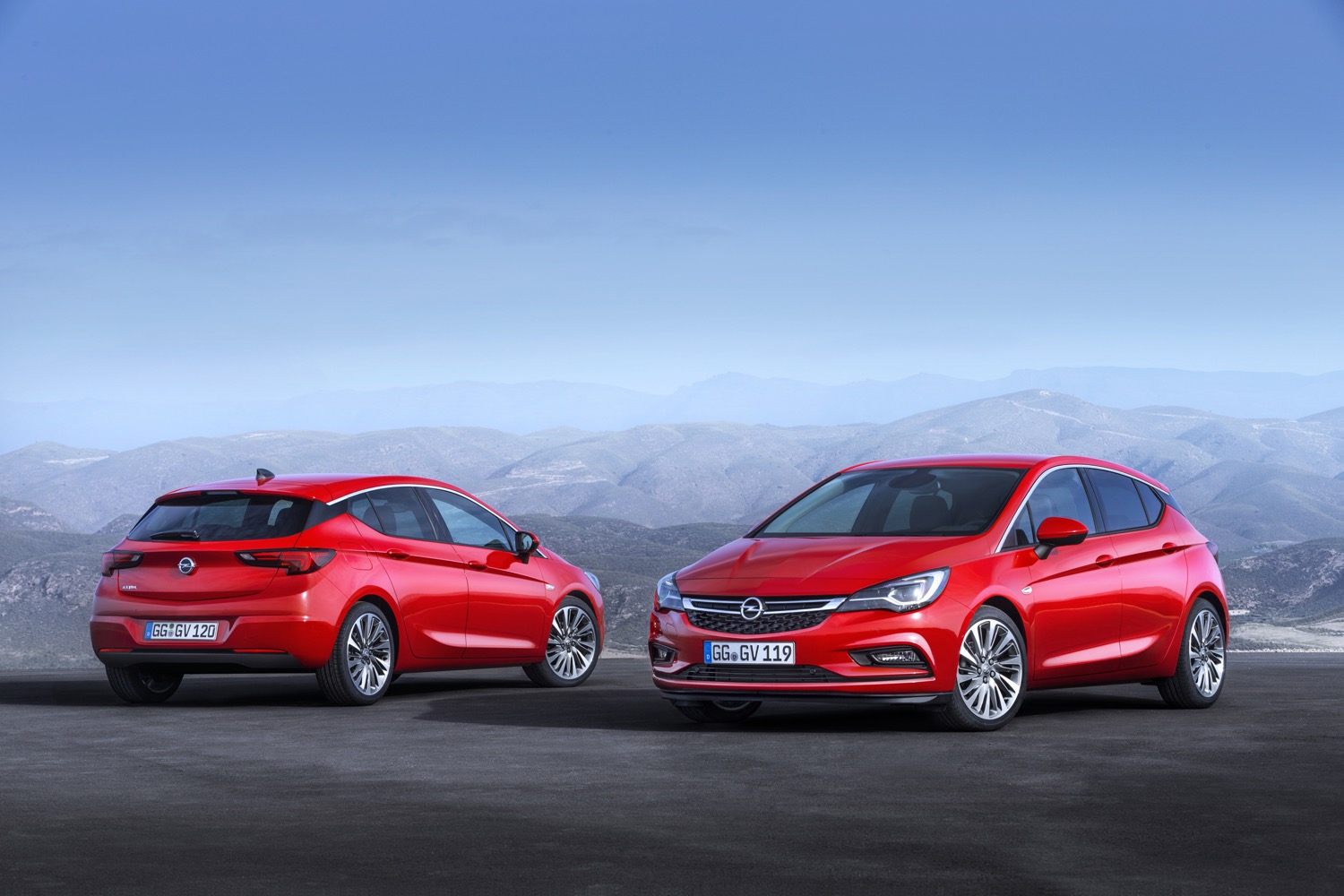 (Image credited to gmauthority.com)
BMW 3.0 CSL Homage Concept: I completely forgot that this car debuted, probably because it was so forgettable to begin with. This is, in fact, quite the opposite effect of what the original 3.0 Homologation Special from 1972 had. This concept will more than likely never be built, which is a good thing, because it looks a little too boy racer for a BMW, and the kidney grille looks like two kidneys with a brick shoved in each of them.
(Image credited to motorauthority.com)
So those are the debuts of cars that go on sale in other countries, but there have been some recent unveils that the U.S. consumer should take note of.
2016 Mercedes-Benz GLC: First things first, the GLC is the next generation of the GLK, with a new name. From now on all Mercedes crossovers will begin with the prefix GL and end with the letter that corresponds to the name of the sedan that the vehicle shares its platform and architecture with. In this case, the GLC is the crossover version of the C-Class. It has the same interior and it kind of looks like a jacked up C-Class (which isn't a bad thing); either way, it looks good. In terms of powertrains, turbo-fours replace the V6, a plug-in hybrid is offered and an AMG version will debut eventually.
(Image credited to caranddriver.com)
2016 Aston Martin DB9 GT: The DB9 GT has 30 more horsepower than the regular DB9, it features some new design modifications, and it also features Aston's new infotainment system. This should be enough to hold over those who are overly anxious for the DB9's successor to arrive.
(Image credited to autoblog.com)
2016 Mini Cooper Clubman: I am by no means excited to report the fact that Mini hasn't learned its lesson that too many models don't work for a brand like itself. Why they felt like a new Clubman was necessary is beyond me. I feel like the new 5-door Mini hatchback (which will probably cannibalize Mini 3-door sales in this market) should have been called the Clubman. At any rate, the new Clubman is longer than before and can now serve as the brand's "flagship model". Like the Cooper hardtop, it no longer looks cute, but rather stupid, goofy, and chubby. The passenger doors are also front hinged now, while the interior looks the same as the new generation of Minis.
(Image credited to autoblog.com)
2016 Chevrolet Camaro Convertible: It's a convertible version of the already glorious 2016 Camaro coupe, and it features the same powertrains.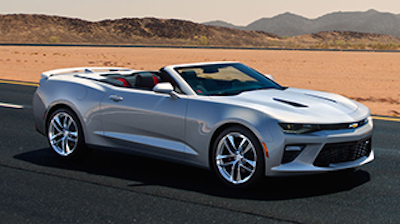 (Image credited to gmauthority.com and camaro6.com)
2016 Chevrolet Cruze (sedan): The all-new Cruze benefits from a new turbo-four cylinder which boast an increase in horsepower, torque, and fuel economy. The interior is all-new, but it still looks like a Cruze, while the exterior has been completely overhauled. Many will be happy to know that this car is completely different form the Chinese market Chevy Cruze. Although Chevy touts the Cruze is a global product, I'm not so sure. The name might be global, and it may be used on a compact car in the U.S. and Asia, but those two compact cars have different lifecycle and are completely different cars, in general.
(Image credited to autoblog.com)
2016 Alfa Romeo Giulia: What is perhaps this summer's most hotly anticipated debut, the new Alfa Romeo Giulia will go head to head with the BMW 3-series, Audi A4, Cadillac ATS, Jaguar XE, Mercedes-Benz C-Class, Lexus IS, and the Infiniti Q50. However, that car wasn't shown. What was shown was the 510 horsepower rival to the BMW M3, Cadillac ATS-V, and the Mercedes C63 AMG: The Alfa Romeo Giulia Quadrifoglio. This car has the most horsepower in its class, has 50/50 weight distribution, and standard rear-wheel drive with AWD as an option. FCA CEO Sergio Marchionne has outlined his goals for Alfa to be neck and neck with Audi in terms of sales, by the end of the decade and that can't just be done with a limited sports car and two hatchbacks not sold in the U.S. To do that, he needs the one thing that Alfa currently lacks: fresh, new products that won't compete in niche market and will scream big profits for the brand. This is the 2nd major step in a new product onslaught for Alfa. If the car handles as good as Alfa claims, and it is marketed right, it has the makings of a success in North America, if not they're screwed. The one problem this vehicle doesn't have is a design problem though. It looks like an Alfa Romeo should on the front, while the rest of the car almost looks like a 3-series, but not quite. The design of the 3-series is a popular one, which should give the car some points with car shoppers in this segment as well.
(Image credited to autoblog.com)
That's all for now, but there will be more to come for sure in Part III, and who knows, there may even be a few more parts after that, so stay tuned. I should mention that the Aston Martin DB9 is being unveiled at the Goodwood Festival of Speed, while the other models int this post and my last post were unveiled at other private events. hosted by their respective brands. Many of these models, like the BMW 3-series, 7-series, and X1, as well as the Mini Clubman and the Opel Astra will more than likely be showcased at Frankfurt in September. While I'm not a fan of this process, mostly because it kills the surprise of new model debuts at the auto show, the practice is continuing to grow at a rapid rate. Two years ago, two of the Frankfurt Auto Show's most hotly anticipate debuts were unveiled in the summer of 2013; the Porsche 918 Spyder and the BMW i3; that just ruined the element of surprise for me.
At any rate, I still find it impressive that so many brands have unveiled products this summer, with 22 products shown so far. What's even more impressive is that there's more to come from brands like Fiat, while others may follow suite, especially in late August as the Frankfurt Auto Show draws nearer, so for now we'll have to be content with what we have; considering we have a new BMW 7-series, an all-new Camaro coupe and convertible, as well as a 510hp Alfa Romeo, that shouldn't be too hard.
That's all for now, thank you for reading and have a good week!